Pagan Britain
Neolithic Long Barrows and Passage Graves
4000–3000 BC, Neolithic, Britain.
The skulls were sometimes put in one place, the left arm bones in another, almost as if hinting at one composite person lying there in the grave.
In the fourth millennium BC in Britain, nearly six thousand years ago, the dead were exposed to the birds, in the way that the dead in Buddhist Tibet are today. The bodies upon their scaffolds were placed inside a circular ditch, perhaps to protect them from any malevolent magic that might be out to harm them. Then, when the bones had been picked clean by the birds, they were gathered up and taken to a longhouse of the dead, a long barrow or to a passage grave. Sometimes, as at the West Kennet Long Barrow near Avebury in Wiltshire and at Wayland's Smithy in Oxfordshire, its entrance was a grand affair; huge stones hinting at grand ceremonies that took place there. Or perhaps the interior was impressive, like the Le Dehus passage grave on the Channel Island of Guernsey.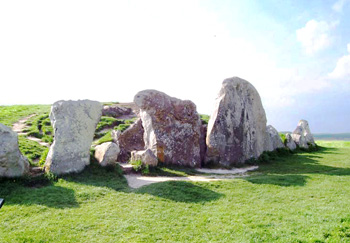 West Kennet Long Barrow, one-and-a-half miles south of Avebury in Wiltshire, England.
The bones in these passage graves were not laid to rest, though. They were movable property. Perhaps communal gatherings took place inside the passage graves; the resonant qualities of many of these chambers have been shown to be conducive to the theatrical amplification of sound. But although bones were not collected together or laid out in respect of any one individual, they seem not to have been randomly thrown together into a heap either. In some tombs, where bones were used as relics and were moved about, there is evidence for the bones having been stored in areas containing the same body parts – all the skulls in one place, all the left arm bones in another, almost as if hinting at one composite person lying there in the grave.
Evidence for the human remains in long barrows and passage graves 'rearranged and organised according to body parts' in: Bradley, Richard, 1998 reprinted 2006. The Significance of Monuments: On the Shaping of Human Experience in Neolithic and Bronze Age Europe. Routledge. Chapter 4: Another time. Implications, p 64.
references